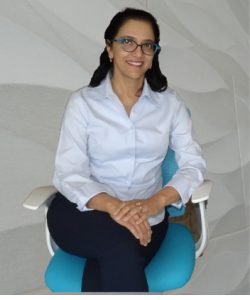 Over the past 30 years, Dr. Chandran has had the honor of serving the dental needs of her patients in the Allen and DFW area, and previously in London and Birmingham, U.K. Graduating from King's College Dental School in London in 1987 was the beginning of a lifelong journey of dental education. Upon graduation, she was chosen for the residency program in her first year of practice. Here she was exposed to a variety of advanced procedures. A further five years in private practice in London allowed her to hone her skills as she served diverse populations.
Dr. Chandran arrived in the US in 1994, where she took two years to recertify. Since 1996, she has practiced in various corporate and private settings. She founded Feather Touch Dentistry in the year 2000, where she passionately provided a dental home to many happy patients until 2009. She continued practicing there under a corporate management until 2013. Her goal at Twin Creeks Dentistry is to utilize her extensive continuing education and training in advanced dental procedures to deliver a comfortable patient visit with the utilization of the latest technology and techniques. In the past, the variety of treatment modalities (whether it be preventive procedures for children, root canals for adults or implants for seniors) has kept her excited on a daily basis. Dr. Chandran far exceeded the continuing education requirements by consistently improving her skills. Some of the many continuums that she has attended are:
Aesthetic Continuum for smile makeovers with Larry Rosenthal at NYU
Implant Continuum with Dr. Garg
And the Orthodontic Continuum with the American Orthodontic Society.
In the last couple of years, she took a sabbatical where she helped her colleagues with their practices. Meeting and connecting with people brings much joy and fulfillment to her. She invites you to become part of her dental family.